The Tenth Day of Christmas - Turkey Pizza (Perfect to keep the kids happy)
Author: The Turkey Man Date Posted:22 December 2017


This one is super quick and easy and the kids will love it!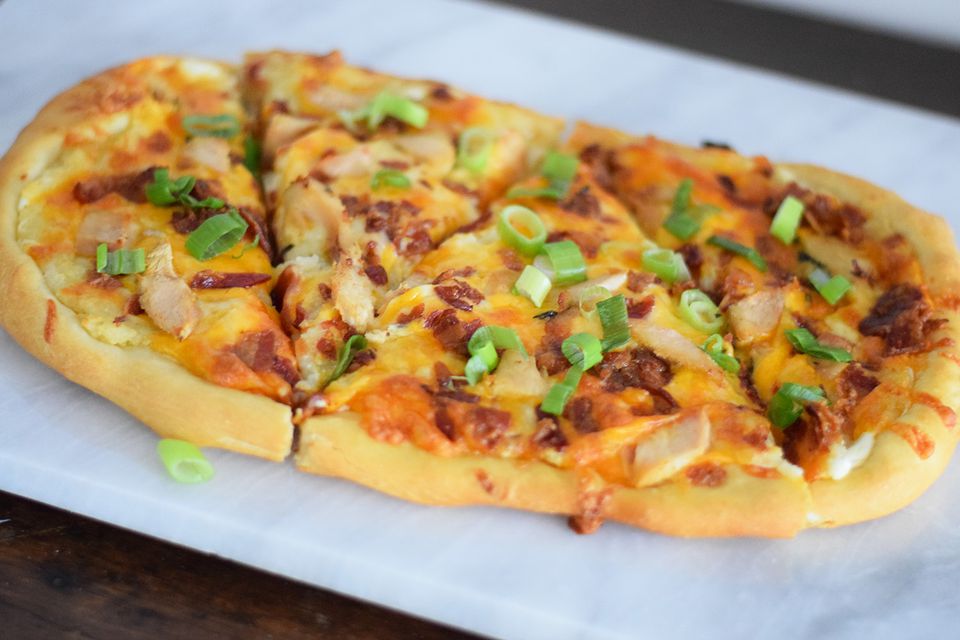 Prep: 90 mins,
Cook: 20 mins
1 Pizza, serves 4

What You'll Need
Pizza Dough (or pre-made pizza dough):
1 cup water (lukewarm)
1 1/2 teaspoons active dry yeast
1 teaspoon salt
1 teaspoon sugar
1 tablespoon olive oil
3 cups flour (roughly)
Toppings:
6 strips bacon
1/4 cup sour cream
1 cup leftover mashed potatoes
1/2 cup leftover turkey (cut into small pieces)
1/2 cup mild cheddar cheese
1/2 cup mozzarella
1/4 cup spring onions(chopped)
Method
Stir together lukewarm water, yeast, salt, sugar and olive oil in a large measuring cup. Then let sit for about 10 minutes. You should see the yeast start to bubble and grow.

Place the yeast mixture in a large bowl or the bowl of a stand mixer. Gradually add the flour, stirring or using the dough hook attachment until the flour is completely combined and the dough forms a ball. Add olive oil to the sides of the bowl and cover with a towel. Place in a warm area or just on the counter and allow it to rise for one hour.

Preheat the oven to 220 degrees.

Fry or bake the bacon until crispy. Chop the bacon into a small dice.

Punch down the dough and roll into a softball. Place the dough on a large sheet of parchment paper, lightly grease your hands with oil and push and flatten the dough to form the crust.

Once it is thin enough (1/8-inch thick), spread the sour cream over the crust.

Spread the leftover mashed potatoes over the sour cream.

Sprinkle the two

cheeses

over the top of the potatoes. Then spread the leftover turkey over the top and sprinkle with bacon.

Bake on the bottom rack of the oven for about 15-20 minutes, or until golden and crispy.
Recipe by Leah Maroney
Photo Credit www.thespruce.com
---
Leave a comment