About Us
Author: Simone Wheeler Date Posted:10 April 2017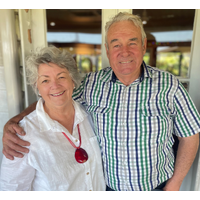 Have you heard The Churkey Man's story?
After more than 30 years in the agricultural industry and experiencing health issues as a result of conventional farming practices, Ewart (also known as 'The Churkey Man') discovered the positive impact organic turkey and chicken meat had on his health and healing journey.
He set out to explore the possibility of producing free range certified organic turkey, which later grew to include organic chicken, from his family farm in Kingsthorpe on The Darling Downs, gaining O.F.C certified organic accreditation some time after.
From early beginnings producing small amounts to feed friends and family, the demand for organic turkey and chicken products increased significantly as people recognised the versatility and health benefits of adding turkey and chicken to their diet regularly.

Ewart, together with his wife Suzanne, run GreenAg from their family farm located on the beautiful Darling Downs, providing high quality certified organic chicken and turkey products for purchase through their online store, and at Farmer's Markets where they enjoy educating the public on the importance of eating organic poultry and the benefits organic poultry can have on their health.
They pride themselves on supplying a fully certified organic product free from gluten, hormones, antibiotics, artificial colours, flavours and preservatives.
GreenAg turkey products have been used by healthy lifestyle advocates such as:
Changing Habits Nutritionist Cyndi O'Meara

Organic Paleo Chef and Food Coach Pete Evans

Food Health Wellness Business Coach Samantha Gowing

Better Homes and Gardens Chef Ed Halmagyi (known as Fast Ed)

Chef Alistair Macleod and

The Living Room's resident chef Miguel Maestr
If you are in South East Queensland you can look for us at the following Farmer's markets:
Saturday
Toowoomba Farmer's Market | 7am - 12pm | Cobb & Co, Lindsay Street, Toowoomba
Yandina Country Market | 6am - 12pm | North Street, Yandina (temporarily unavailable)
Sunday
Northey St Organic Farmer's Market | 6am - 11am | 16 Victoria St, Windsor
Noosa Farmer's Market | 6am - 12pm | 155 Weyba Rd, Noosaville
"At no time during the growing or processing are there any added chemicals, preservatives, artificial colours, fillers or glutenous products used. Our products are totally organic from our paddock to your plate."
'We want to make it even easier for you to include organic turkey & chicken in your weekly menu'

'We do this for the future generations, we want to provide a healthier way of eating not only for ourselves but for our children's children...food is changing, we want to keep it as high in nutritional value as possible' - Ewart, The Churkey Man
All the best – Ewart, aka The Churkey Turkey Man (chicken & turkey man) and Suzanne Sylvester