The Sixth Day of Christmas - Turkey and quinoa salad with salsa rojo
Author: The Turkey Man Date Posted:18 December 2017


Looking for a holiday recovery recipe? Then this Mexican-inspired number is it. Nutty quinoa adds substance and it makes use of leftover roast turkey to boot.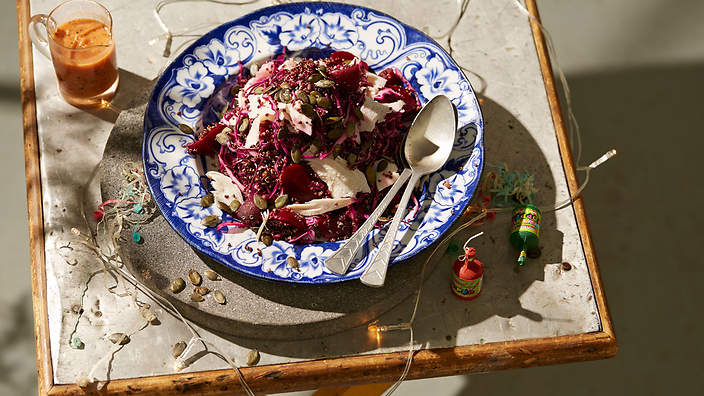 Serves 4
Preparation 20 Min
Cooking 10 Min


Ingredients
500 g red cabbage (about ¼), very finely shredded
105 g (½ cup) quinoa
350 g roasted turkey, shaved or roughly torn
12 canned pickled baby beetroots, halved
¼ cup pumpkin seeds

Salsa rojo
2 vine-ripened tomatoes, blanched, peeled and roughly chopped
5 small garlic cloves, unpeeled
3 dried chile dearbol
2 tbsp extra virgin olive oil

Cook's notes
Oven temperatures are for conventional; if using fan-forced (convection), reduce the temperature by 20˚C. | We use Australian tablespoons and cups: 1 teaspoon equals 5 ml; 1 tablespoon equals 20 ml; 1 cup equals 250 ml. | All herbs are fresh (unless specified) and cups are lightly packed. | All vegetables are medium size andpeeled, unless specified. | All eggs are 55-60 g, unless specified.
Method
To make the salsa

rojo

, heat a frying pan over medium heat. Add the garlic cloves and dried chillies and char, turning occasionally, until the chillies begin to just blacken (about 3 minutes) and the garlic cloves are completely blackened and softened (about 20 minutes). Remove each ingredient from the pan as it is ready. Cool slightly, then destem the chillies and peel the garlic. Add to a blender, along with the tomato and oil and blend until smooth and thick. Season with sea salt and freshly ground black pepper and set aside until ready to serve. Makes 1 cup.

Cook the quinoa according to the packet instructions. When it is ready, turn off the heat, cover the pan with a lid wrapped in a tea towel and allow to steam for 10 minutes.

Arrange the cabbage, quinoa, turkey, beetroot and pumpkin seeds on a large serving platter. Serve with the salsa

rojo

on the side to spoon over the salad.

Recipe By Belinda So
Photographs by Benito Martin. Styling by Jerrie-Joy Redman-Lloyd. Lava platter from The Country Trader.
---
Leave a comment