The Eleventh Day of Christmas - Turkey Salad With Red Grapes
Author: The Turkey Man Date Posted:23 December 2017


Turkey salad is one of the easy dishes to make with leftover turkey. You can use turkey breast in the salad but you could add some dark as well. If you only have green grapes, go ahead and substitute them for the red. The salad won't be as colourful, but it will be just as delicious.
Lemon juice adds flavour to the mayonnaise dressing. We like to add coarsely chopped toasted almonds for the added crunch and protein.
Enjoy this tasty turkey salad on lettuce for lunch or use it as a filling in sandwiches or buns. It's a great way to use that leftover holiday turkey!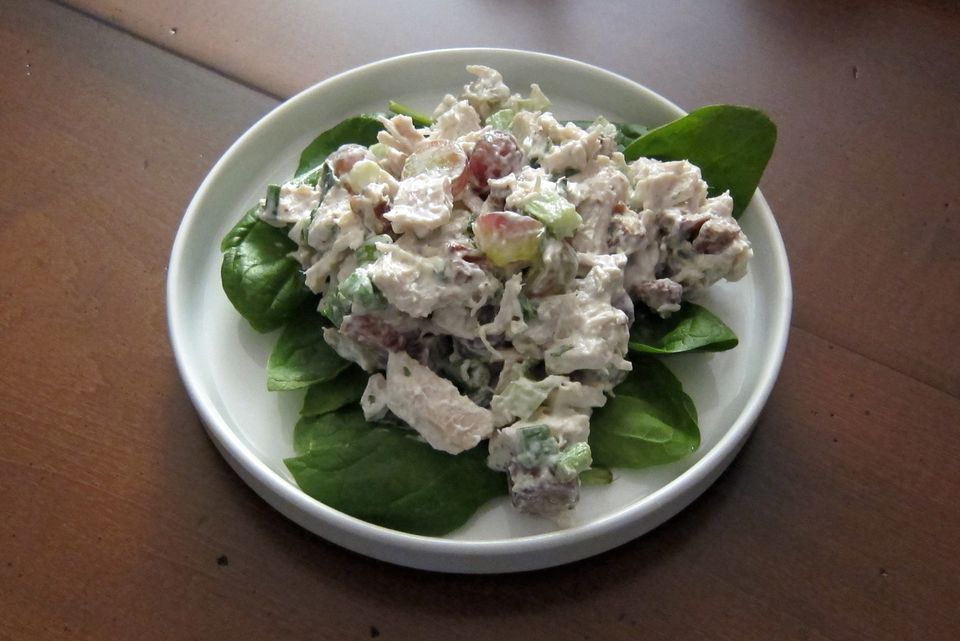 Prep: 15 mins,
Cook: 0 mins
Yield: Serves 4 to 6
Ingredients
1 cup sliced seedless red grapes
1 cup diced celery
1/2 cup chopped spring onions (scallions)
3/4 cup coarsely broken or chopped almonds, optional
3 to 4 cups cooked diced turkey
1 tablespoon chopped fresh parsley, optional
1 teaspoon lemon juice
3/4 to 1 cup mayonnaise
1/8 teaspoon freshly ground black pepper
Salt, to taste
Method
In a bowl, combine the sliced grapes, celery, spring onion, almonds, turkey, and parsley. Toss to blend ingredients.
In another bowl, combine the lemon juice, 3/4 cup mayonnaise, and pepper; blend well. Stir the mayonnaise mixture into the turkey mixture until blended, adding more mayonnaise if needed. Add salt, to taste.
Toast the almonds: Put the almonds in a dry skillet over medium heat. Cook, constantly stirring and turning, until the almonds are lightly browned and aromatic. Remove to a plate to cool.
Serve in sandwiches or on greens or lettuce leaves for a lighter lunch salad.
Recipe by Diana Rattray
Photo Credit by wwww.thespruce.com
---
Leave a comment