The Eighth Day of Christmas - Turkey chilaquiles with watermelon basil margaritas
Author: The Turkey Man Date Posted:20 December 2017


We've made use of leftover Christmas Day roast turkey but you can easily replace with ground beef or pork.
Chilaquiles are a breakfast staple across Mexico. It makes use of leftover tortillas, which are fried till crisp, then simmered in a spicy tomato salsa. It's what we know as nachos, but taste this Mexican version and Nacho Night will never be the same again.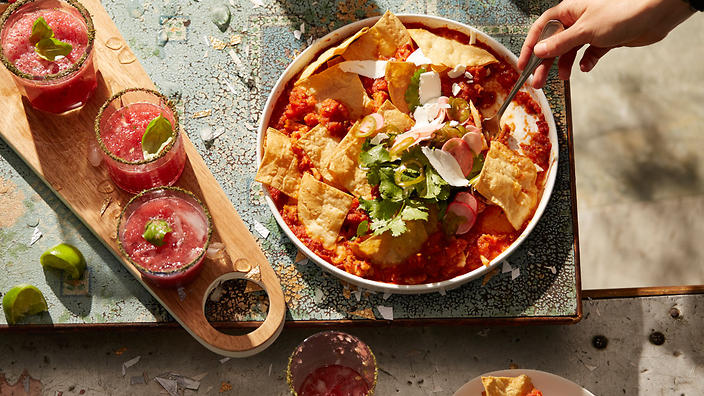 SERVES 4
PREPARATION 35MIN
COOKING 30MIN

Ingredients
5 vine-ripened tomatoes
1 small white onion, halved
8 small garlic cloves, unpeeled
4 canned chipotle chillies in adobo, roughly chopped
vegetable oil, for deep-frying
6 small corn or tortillas, quartered
200 g roasted turkey, coarsely shredded
100 g piece of salted ricotta, shaved with a vegetable peeler
1 cup coriander sprigs
lime cheeks, to garnish
watermelon and basil salt margarita, to serve

Pickled jalapenos and radish
125 ml (½ cup) apple cider vinegar
2 tbsp white sugar
2 jalapenos, seeds removed and sliced thin into rings
5 radishes, trimmed and thinly sliced
1 pinch toasted cumin seeds
Cook's notes
Oven temperatures are for conventional; if using fan-forced (convection), reduce the temperature by 20˚C. | We use Australian tablespoons and cups: 1 teaspoon equals 5 ml; 1 tablespoon equals 20 ml; 1 cup equals 250 ml. | All herbs are fresh (unless specified) and cups are lightly packed. | All vegetables are medium size andpeeled, unless specified. | All eggs are 55-60 g, unless specified.
Instructions
To make the pickled jalapenos and radish, heat the vinegar and sugar in a small saucepan over medium-low heat. Simmer for 10 minutes until slightly syrupy. Place the jalapenos, radish and cumin in a heatproof bowl, pour over the hot pickling liquid, stir to coat everything well and set aside to cool.

Heat a large char-grill pan over medium heat. Add the tomatoes, onion and garlic and char, turning occasionally, until the tomatoes have blistered and just begin to soften (about 10 minutes); the garlic cloves slightly blackened (about 10

minutes); and

the onion has well-defined chargrill lines (about 15 minutes). Remove each ingredient from the pan as it is ready and cool enough to handle.

Meanwhile, heat the oil in a large saucepan or wok to 180C. Deep-fry the tortilla chips, in batches (don't overcrowd them), until they bubble up, turn golden and are crisp, about 30 seconds. Remove and drain on

wire

rack placed over a heatproof tray to catch the drips. Set aside.

Preheat the oven to 180°C.

Peel the garlic and tomato. Add the garlic, onion, chipotle and 2

tablespoons

of the adobo sauce to

blender

and blend until finely chopped, then add the tomato and blend until a chunky puree. Season with sea salt. (Makes about 1 litre/4 cups.)

Transfer the tomato mixture to a small rectangular baking dish and bake for 15 minutes. Remove the dish from the oven, scoop out about 1 cup of mixture and set aside.

Stir the turkey through the mixture in the tray, and stand the tortilla chips in the mixture – half should poke out above the surface and along the edge of the dish. Pour over the reserved mixture and return to the oven for another 10 minutes.
Remove from the oven, garnish with some of the pickled jalapenos and radish, salted ricotta and coriander. Serve the extra garnishes on the side with the lime. Enjoy with the watermelon and basil salt margaritas.
Recipe By Belinda So
Photographs by Benito Martin. Styling by Jerrie-Joy Redman-Lloyd. Serving board from Koskela, Cutlery from The Country Trader, Ikea platter.
---
Leave a comment