Roast Turkey Breast with Brie and Apricots
Author: Admin Date Posted:17 May 2017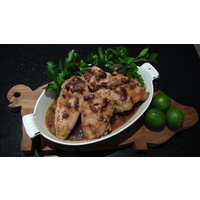 All the goodness of delicious turkey and the Mediterranean goodness of fruits like apricot and cranberry. Yum!
Ingredients:
1 large Turkey Breast/2 small Turkey Breasts
Brie Cheese
1 small packet of pecans
1 can of apricot halves
½ cup of dried cranberries
1 Tablespoon of Fruit chutney
1 Tablespoon of apple cider vinegar
1 Tablespoon of soy sauce
1 Tablespoon of vegetable stock powder
Salt and pepper as required
8 baby onions
Sweet potato cut into cubes
1. Stuff Turkey breast pocket with Brie and Pecans
2. Brown Turkey breast
3. Place vegetables around the Turkey including the cranberries and apricot
4. Combine seasonings and liquids and gently pour over vegetables and turkey
5. Roast in oven for about 40-45 minutes on 180 degrees. Do not overcook. Use a skewer to test
6. Baste with pan juices if necessary during cooking.
Suggestions:
Greens: Broccolini or long green beans
---
Leave a comment